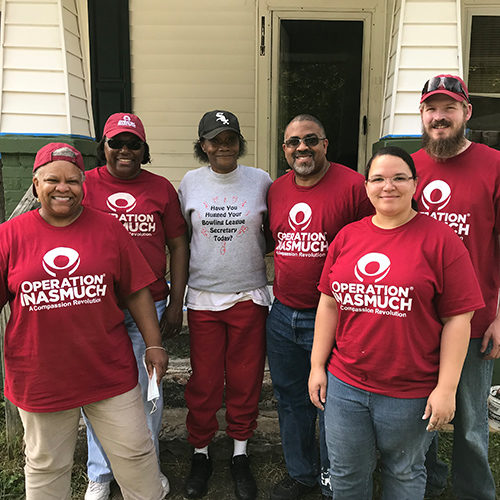 Community Housing Solutions (CHS) provides home repairs to qualifying families who are owner-occupants of Guilford County homes and are below specific income levels. The scope of repairs may include but are not limited to: roofs, plumbing, floors, energy efficiency repairs, accessibility modifications, electrical hazards, and code violations. Work that is cosmetic or optional in nature does not fall within the scope of the program. We focus on repair issues which make a home warmer, drier, and safer, and have served over 1500 homes since our inception.
CHS provides repairs that makes homes warmer. Repairs of this nature are also de-signed to make your home more energy efficient, reduce energy costs and make your home more affordable to occupy.
Repairs may include:
Air sealing
Insulation
Heating system repairs
Floor, wall and ceiling repairs
Broken windows, doors, and glass repairs
CHS provides repairs that make homes drier. This may include repairs that preserve the structure of the home and make the home healthier to live in by reducing mold and mildew. Our repairs also frequently help you save money on your water bill.
Repairs may include:
Repairing or replacing damaged roofs
Plumbing repairs
Drainage repairs
Repairing water damaged areas
CHS provides repairs that make homes safer to live in. This includes repairs that make homes healthier for older adults and children, allowing older adults to safely stay in their homes longer.
Repairs may include:
Grab bars
Wheel chair and accessibility ramps
ADA height toilets
Lever door handles
Pest management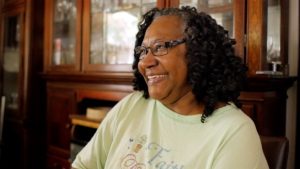 Cone Health and Community Housing Solutions are grateful to partner together to offer this valuable program to our community. Aging Gracefully allows homeowners to move through their homes safely and stay in their homes longer.
• Receive visits from Nurses and Occupational Therapists
• Receive necessary home modifications
• Modifications may include: access ramps, grab bars, levered door handles, and bathrooms
• Meets standards for Americans with Disabilities Act
Read more in the Aging Gracefully Brochure. For more information, call Community Housing Solutions at 336-676-6986.
Neighborhood /Community Events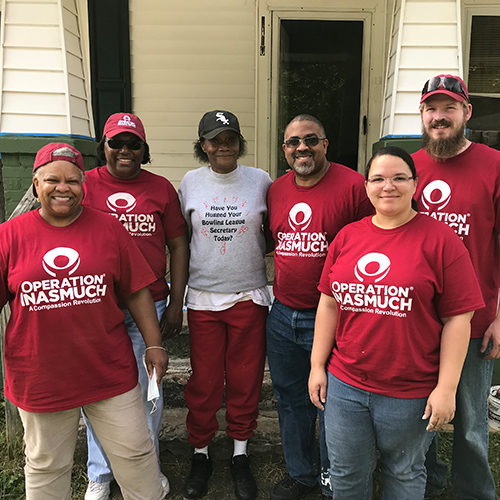 Operation Inasmuch
Operation Inasmuch is a partnership between Community Housing Solutions, Housing Consultants Group and the City of High Point. This one-day event occurs twice a year, once in the spring and once in the fall, and is focused on home repairs and neighborhood revitalization in the core city of High Point. The idea for this day of service is taken from the scripture passage in Matthew that asks us to take care of our neighbors. The City of High Point assesses which neighborhoods are in need of improvement, and we recruit volunteer groups to join us in making these homes warmer, drier and safer.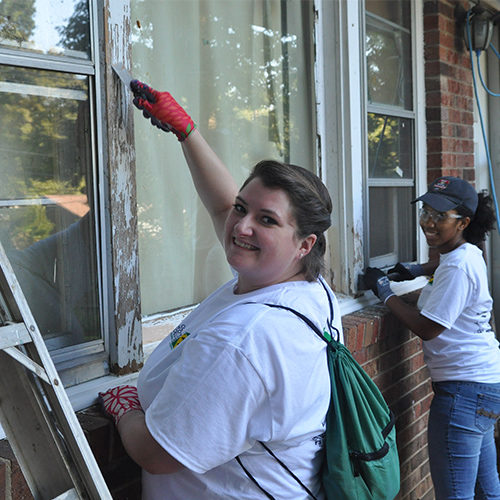 Paint The Town
Paint the Town is an annual one-day Community event that targets a neighborhood in need of support. CHS partners with local businesses, corporations and faith organizations to do exterior repairs, painting, and landscaping for one neighborhood. Paint the Town is designed not only to assist low-income homeowners with the preservation of their homes, but also to lift the neighborhood by aggregate effect. Repairs completed during Paint the Town often allow families to keep their homeowner's insurance in place and thus decrease their risk of foreclosure.  Eligible homeowners are elderly or disabled individuals living on a fixed income who are unable to do the repairs themselves.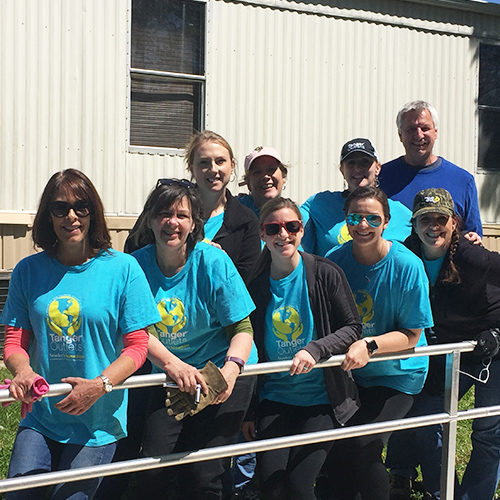 Ramp-a-thon
Ramp-a-Thon builds wheelchair ramps and restores access to families with mobility needs. Ramps built during this annual week-long event improve the quality of life for people who desire to live independently and restores hope and dignity to these homeowners. Ramp-a-Thon helps both elderly homeowners, as well as individuals of any age who have limited mobility.
Ramp-a-Thon is a partnership between CHS and the Catholic HEART Work Camp (hosted by St. Paul the Apostle Catholic Church) who provide the volunteer labor. More than 80 high school and college students give a week of their summer to serve building the ramps. Ramp-a-Thon is funded through the generous support of local businesses, faith groups and civic organizations.