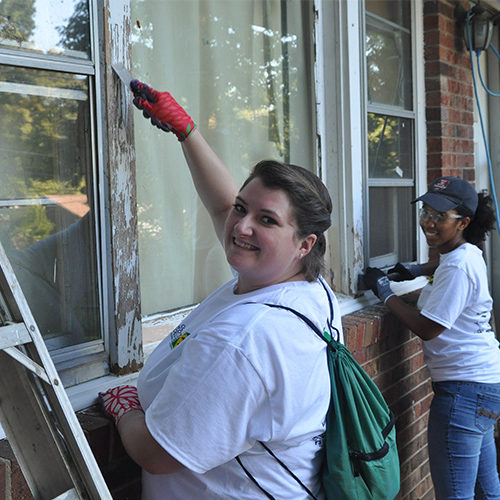 The work of CHS is possible because of the generous support of our community and people like you. We are careful stewards of your donation and of our resources. Ninety cents of every dollar given to CHS goes directly into our programs. CHS creates hands-on volunteer opportunities for businesses, faith organizations, local colleges, civic organizations and community members. We leverage over 9,000 hours of volunteer labor annually, stretching our impact and your donation. We also use local and minority subcontractors on repairs that require a licensed professional, keeping these funds in the community. CHS is mindful of our physical resources, accepting gift-in-kind donated materials that we store in our 3,500 square foot warehouse. Everything from shingles, flooring, paint, and plumbing fixtures to tools are reused and repurposed from job-to-job, eliminating waste and decreasing overhead.
Miscellaneous
5 Oil-filled Radiant Space Heaters
Work Van
Small Step-Up Box Truck
Gift Cards to Home Depot
Office Needs
Copy/Print/Scan/Fax Machine
Desktop Laser Printer
Construction Needs
Utility Knives
Paint Brushes
Tape Measurers
Speed Squares
Heavy Duty Circular Saw
6' Levels
Small Shop Vac
Knee Pads
Join our Weekday Crew!
Come once or come regularly. Volunteers work alongside our skilled Construction Staff on Wednesdays, Thursdays and Fridays. Sometimes it's a simple fix (installing grab bars for an elderly resident), sometimes it's a big job (tearing out and rebuilding soft, unsound flooring). The more help we get, the more work we can do! Volunteers are needed every Wednesday, Thursday and Friday, full and half days. Individual volunteers must be 18 years of age or older.
Bring a Group
CHS welcomes volunteer groups. Repairing homes - hands-on work - not only benefits homeowners, but provides excellent team-building opportunities. Faith community, corporate and civic groups join us for larger jobs, including demolition, major repairs, building accessibility ramps, roofing, and more. Group volunteer opportunities are available weekdays and Saturdays and for our neighborhood and community events (with a clickable link to the neighborhood and community events on the What we do page) Group participants must be 14 and older. CHS provides gloves, safety gear and tools, but bringing additional tools is always appreciated.
Corporate Service
CHS has a long history of working with local businesses as they give back to the community. Corporate days of service can be arranged weekdays and Saturdays throughout the year and are often assigned to our larger projects and rehab homes. Local businesses are encouraged to get involved in our annual repair blitzes including Paint the Town and through sponsorship of specific home repair projects.
For more information on volunteering, contact Cheryl Brandberg at info@chshousing.org.