The work of CHS is possible because of the generous support of our community and people like you. We are careful stewards of your donation and of our resources. Ninety cents of every dollar given to CHS goes directly into our programs. CHS creates hands-on volunteer opportunities for businesses, faith organizations, local colleges, civic organizations and community members. We leverage over 9,000 hours of volunteer labor annually, stretching our impact and your donation. We also use local and minority subcontractors on repairs that require a licensed professional, keeping these funds in the community. CHS is mindful of our physical resources, accepting gift-in-kind donated materials that we store in our 3,500 square foot warehouse. Everything from shingles, flooring, paint, and plumbing fixtures to tools are reused and repurposed from job-to-job, eliminating waste and decreasing overhead.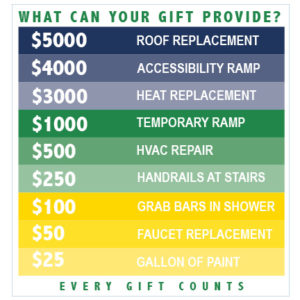 Ambassadors Breakfast
Every year, CHS holds a breakfast to celebrate our work and the community that comes together to make it happen. Our Ambassadors Breakfast is a unique moment, where homeowners, volunteers, CHS Staff and Board members, and community supporters all come together to celebrate work well done, and look forward to what is to come! Due to concerns with COVID-19, the 2020 event will be a VIRTUAL event and will take place on Tuesday, November 17 at Noon. You may register by clicking here. 
During the Ambassadors event, we will be offering a text-to-give option. Information about this text service is below:
About our texting service
By joining our text service you can expect to receive messages about Community Housing Solutions (CHS). We will never share or sell your mobile number or data. You can opt-out anytime by texting the word "STOP" or "QUIT". Text "HELP" for help. Message & data rates may apply. Up to 4 msgs/month.
SMS Terms & Conditions
CHS is committed to building user trust and confidence by promoting and complying with the use of business practices that help protect the privacy of the user and his/her data. For more information you can view a copy of our company's privacy policy.
CHS offers recurring text message services. By opting-in to any such service, you are confirming your entry into a recurring texting program and you give your consent to CHS to use an automatic system to deliver text messages to the phone number to which you have directed it to transmit text messages. Message frequency varies.
CHS does not charge for our texting service; however, message and data rates may apply from your mobile carrier. Participation in the service is standard rated (no premium content). Subject to the terms and conditions of your mobile carrier, you may receive text messages sent to your mobile phone.
By providing your consent to participate in our texting service, you approve any such charges from your mobile carrier. Charges for text messages may appear on your mobile phone bill or be deducted from your prepaid balance.
CHS reserves the right to terminate the SMS service, in whole or in part, at any time without notice. The information in any message may be subject to certain time lags and/or delays. If you have any questions or need help, text HELP into the text thread.
To stop receiving text messages, text STOP or QUIT. By enrolling in the texting service, you consent that after having submitted a request to opt-out you will receive one (1) final message confirming that you have been removed from the system. Following the opt-out confirmation message, no additional text messages will be sent unless you rejoin the system.
Miscellaneous
5 Oil-filled Radiant Space Heaters
Work Van
Small Step-Up Box Truck
Gift Cards to Home Depot
Construction Needs
Utility Knives
Paint Brushes
Tape Measurers
Speed Squares
Heavy Duty Circular Saw
6' Levels
Small Shop Vac
Knee Pads
Office Needs
Copy/Print/Scan/Fax Machine
Desktop Laser Printer