The work of CHS is possible because of the generous support of our community and people like you. We are careful stewards of your donation and of our resources. Ninety cents of every dollar given to CHS goes directly into our programs. CHS creates hands-on volunteer opportunities for businesses, faith organizations, local colleges, civic organizations and community members. We leverage over 9,000 hours of volunteer labor annually, stretching our impact and your donation. We also use local and minority subcontractors on repairs that require a licensed professional, keeping these funds in the community. CHS is mindful of our physical resources, accepting gift-in-kind donated materials that we store in our 3,500 square foot warehouse. Everything from shingles, flooring, paint, and plumbing fixtures to tools are reused and repurposed from job-to-job, eliminating waste and decreasing overhead.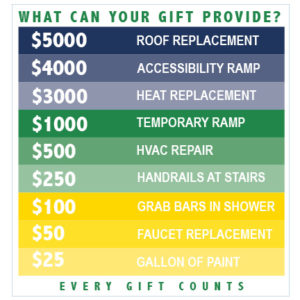 Ambassadors Breakfast
Every year, CHS holds a breakfast to celebrate our work and the community that comes together to make it happen. Our Ambassadors Breakfast is a unique moment, where homeowners, volunteers, CHS Staff and Board members, and community supporters all come together to celebrate work well done, and look forward to what is to come! Due to concerns with COVID-19, the 2021 event was a VIRTUAL held this past November. Click here to see several videos shared at this event. 
Miscellaneous
5 Oil-filled Radiant Space Heaters
Work Van
Small Step-Up Box Truck
Gift Cards to Home Depot
Construction Needs
Utility Knives
Paint Brushes
Tape Measurers
Speed Squares
Heavy Duty Circular Saw
6' Levels
Small Shop Vac
Knee Pads
Office Needs
Copy/Print/Scan/Fax Machine
Desktop Laser Printer